A captive domicile is the location where a captive insurance company is formed and regulated. Captives are bona fide insurance companies, formed to insure the risks of an affiliated business. Business owners who opt for self insurance via a captive to insure their risks must choose a domicile, either onshore or offshore, to ensure the captive is operating as a true insurance company.
In general, insurance in the United States is regulated at the state level—more states are adopting captives and passing captive legislation now more than ever. A captive domicile with a good regulatory framework is integral to clients' success in alternative risk planning. Domicile consulting should be a mainstay of a captive insurance program, as part of a multidisciplinary approach to the planning.
Similarly, the domicile should be experienced in regulating all captive insurance types including single-owner captives, group captives, and agency captives. The video below explains.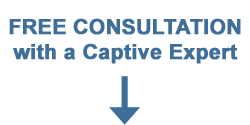 Have questions? Call Capstone at WEB_TEL, or submit your information via the form. One of our experts will be in touch. As part of our captive domicile consulting service, we'll discuss how we can help you or your client select the most appropriate jurisdiction.
Choosing The Most Appropriate Captive Domiciles
Capstone prefers to work with domiciles that have established track records on regulatory issues and have a history of consistent rulings.Some states' push captive insurance as a 'for profit' extension of its regulatory function. For example, Vermont has a gross receipts tax on premiums and compels captive owners to hire local professionals who then extract high fees for services. Vermont also requires an annual on-site meeting, which adds to the cost.
Since the founding of the Lloyd's of London insurance marketplace in 1688, England has been among the most influential reinsurance markets in the world along with Bermuda and other UK overseas territories. These jurisdictions, including Anguilla which specializes in 831-b captives, continue to set the standard for captive regulation.
Captive insurance domiciles such as Anguilla and Delaware provide the necessary oversight to ensure compliance, but also offer flexibility so captive owners can insure their risks comprehensively. A captive domicile should have a healthy business environment and shouldn't need to rely on ulterior motives to attract new captives.
Regulatory Distinctions Between Captive Domiciles
Delaware - Its dedication to regulatory standards, sophisticated corporate laws, and judiciary and financial infrastructure make Delaware the premier captive insurance domicile for mid-market businesses. Learn more.
Anguilla - Anguilla's action plan upholds international standards against money laundering, the financing of terrorism and proliferation, tax evasion, corruption and related criminal activity, making it one of the most progressive offshore captive domiciles. Learn more.
Arizona - Captive types recognized by Arizona include pure captives, pure reinsurance captives, group captives, agency captives, protected cell captives and risk retention groups. Learn more.
Utah - Utah's captive insurance industry grew rapidly in 2012 at a rate of 26%, making it the country's second largest onshore captive domicile, as well as one of the fastest growing captive domiciles in the world. As of 2017, 150 captives are domiciled in Utah. Learn more.
Tennessee - The state has gained substantial recognition for its ability to write workers' compensation coverage directly into the policies, which is a major draw for larger organizations. Learn more.
Texas - Recent developments, such as allowing captive insurers to pool risk with other captive insurers, has made Texas more captive-friendly for mid-market businesses. Learn more.
Capstone's Approach to Captive Domicile Selection
Capstone Associated Services, Ltd. is one of the oldest and largest sponsors of captive insurance companies, which underwrite property & casualty annual premiums of less than CURRENT_PREMIUM_CAP million per year.
In affiliation with the tax and corporate lawyers of The Feldman Law Firm LLP, Capstone provides the most comprehensive captive insurance planning available. Capstone's staff includes CPCUs (Chartered Property & Casualty Underwriters), ARMs (Associates in Risk Management), accountants and administrators.
It is an attorney-led, captive management services provider, offering domicile consulting, tax, legal, insurance, captive asset management, and accounting for one turnkey fee.
Having formed over CAPTIVE_FORMATIONS captives in multiple domiciles over the past CAP_YEARS_NUMBER years, we understand the importance of choosing the right captive domicile, whether in the U.S. or abroad.
The domicile of choice for your captive depends on many factors. At Capstone, we know what to look for so you can take advantage of many captive insurance benefits. The objective is to fit the client's needs with the most appropriate domicile.
We're happy to discuss the most appropriate captive domicile for your insurance company. Contact us today for a free consultation.